Voted one of Conde Nast's Top 20 Resorts in the World, the ultra-luxurious Royal Malewane is a secluded luxury retreat that exudes old-world charm, in impeccable, graceful and refined colonial style, and sits perfectly in harmony with its natural surroundings. It feels, and it is incredibly intimate, with only six luxury one-bedroom suites and two royal suites, each with two bedrooms.
Set inside the Thornybush Private Game Reserve, the Royal Malewane is part of a reserve created by a consortium of landowners, that is open to the Greater Kruger National Park. The closest airport is Hoedspruit, Hoedspruit a 45-minute drive away and Royal Malewane also has its own private airstrip, the Jackalberry Airstrip.
The Royal Malewane team greets us warmly like old friends, introducing themselves as we sip our welcome drink. The Royal Malewane lodge is a spacious open-plan pavilion on a raised deck overlooking a large watering hole— where we are told the elephants come to drink. We soon find out how very true this is, an absolutely incredible sight! It's cool and shaded, with fresh air flowing through. Persian rugs line the floor, comfortable armchairs in leather and plush fabrics add a pop of colour. It's all very cosy and luxurious; definitely, a place for lingering. An open fire flanked by drinks cabinets is a particularly intimate and inviting corner—the dining room, the shop, and the library lead from the living area. Steps down to a deck with seating and a boma, with further steps to the bar, and a broad walk to the suites and the spa.
Very excitingly, animals roam freely throughout the property. Walking from the reception area to our suite was especially exciting. Kudu, Impala, and Nyala lined the raised curvaceous wooden boardwalk. Exciting and a little intimidating! I must confess to being a tad nervous. Such beautiful creatures, but they are wild animals, and so close we could touch them. We are shown around our divinely decadent suite, which is, in fact, a thatched villa.

The villa is quite charming in a traditional colonial style, ready and waiting for its guest to step in and enjoy it, albeit for a short period. A bottle of bubbles sits chilled in an ice bucket. Sherry also awaits on a silver salver by the fire, a lovely touch that will, I'm sure, be most welcome after our game drive. Taking centre stage is the fabulously romantic safari'esque mosquito-netted mahogany four-poster bed that is deliciously and temptingly dressed in pure white linen. It looks incredibly squishy and luxuriant. As tempting as it is, we have much to do and explore.
A white love seat and more Persian rugs and armchairs upholstered in a bright floral print, with richly patinated wooden furniture, everything and more than you could need, including a fully stocked bar with lime and ginger ready to zing up our tipples of choice. The villa channels all the comforts of home just better! It's truly opulent. With views to the private outdoor terrace and the lush greenery—you know you are in the bush. Just as you know, the bathrooms will be fabulous; Liz Biden always sees to that. A double-ended freestanding bathtub, double basins, indoor and outdoor showers, and lots of lovely Penhaligon of London goodies to enjoy. The bathroom, like the rest of the suite, overlooks the raised deck, the plunge pool, and the bush where once more, we find our furry friends dining below us. The huge windows mean you're on a 24-hour safari.
We are hoping for an elephant or two to come and sip from our pool! We are shown indentations made by the elephants coming to drink from our pool! It's all rather heavenly. I could relax here for days, but my massage awaits. The Spa is voted Best Safari Spa in Africa, and Mary, my therapist, fully intuits my body's needs. I leave feeling restored and re-energised and raring to go. It's safari time.
The Royal Malewane is renowned for its master trackers and rangers. They have the most qualified and experienced guiding team in Africa, led by Master Tracker Juan Pinto. Malewane has three of seven living Master Trackers in the world and the only three in the entire Greater Kruger National Park.
Our tracker Lucas Mathonsi is one of the Master Trackers. He began tracking at the age of five, accompanying his father, a ranger in the Timbavati Reserve, and has been honing his skills over the past 47 years. Together with our ranger, Andre Fourie, we drove into the bush in search of lions and leopards. Sadly the leopard remained elusive; however that all adds to the fun, every drive offers a totally different and unique experience. But the lions more than made up for it! Just to be in the bush with the sounds of the wildlife is magical on its own. Then the clouds darkened, thunder rumbled ever closer, lighting streaks flashed across the sky. We could see the rain lashing down behind us and made a dash to the lodge; the rain poured down just as we stepped ed over the threshold.
Other guests are not so fortunate and arrive drenched but exhilarated. We missed our sundowners in the bush; instead, we cosy up at the fireside with a delicious Cabernet. And what a magical evening we had. There are three other guests, one of whom has come to present a travel award from 5 Star Premium Travel, South African Tourism. The other couple turns out to be great friends with great friends of ours! It's a small world. We elect to eat together on one large table, socially distant, with Juan Pinto, the director, his wife Marguerite for a sumptuous feast with more delicious wine. Royal Malewane has an extensive wine list showcasing a wide variety of South Africa's finest wines – from flagship red blends to boutique producers of lesser-known varietals, as well as a comprehensive range of whiskies from around the world. They have the most extensive whisky selection of any safari lodge, plus a choice of over 40 boutique gins on offer. Not for us, the thought of our 5 am call in the near distance encourages our return to our room and our divinely decadent bed. There is no way we are missing the main event!

Juan Pinto, the former Head Ranger at the lodge, one of the most qualified guides in the business is now the Director at Royal Malewane. He continues to ensure they continue to be the best guiding team in Africa. We had a heavenly stay at the Royal Malewane. There are no fixed times and no fixed menus; you can have what you want, when you want, where you want. It is incredibly indulgent and relaxing, with the added excitement of the ever-present wildlife on your doorstep-plus of course, great food, an Afro-Mediterranean menu that makes use of local ingredients and sublime service that is relaxed and friendly. Here it's all about the extreme landscapes outside and the cosy, homey atmosphere inside. We didn't get a chance to spend time at the new Masiya Bar, overlooking the watering hole named after Royal Malewane's first Master Tracker – Wilson Masiya. Next time! Any excuse to return. We will return!
Golf, hot-air ballooning and horse-riding safaris can be arranged nearby.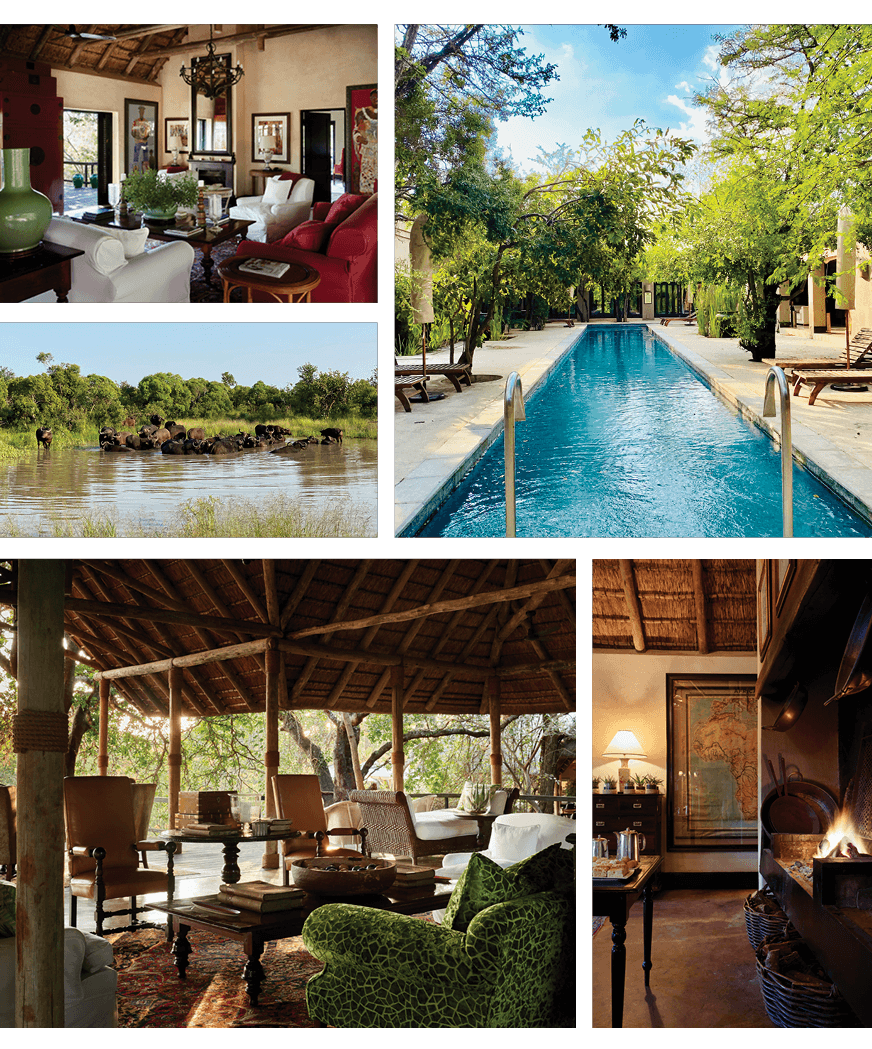 To find out more about Royal Malewane, click here.
All images and story were written by Anji Connell ACID+Anji Connell Interior Design.
www.anjiconnellinteriordesign.com
@anjiconnell_acidplus